Purulia: Students of Kantadi School protested today on National Highway No. 32 in protest against the incident. Police have started investigating the incident.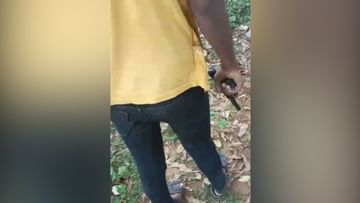 A pistol is seen in the hand of a teenager in a viral video
Purulia : Indiscriminate shooting into schools. Entering the school with a gun. This is what happens in America. But, this scenario is not heard in Bengal. A teenager is accused of raising a pistol and threatening school students there. One such video has gone viral. However, TV9 Bangla did not verify the authenticity of the video. The incident happened in Kantadi of Arsha police station in Purulia. Police have arrested a minor for his involvement in the incident. Later, a brother of the accused was also arrested. They were produced in the Purulia Juvenile Court today. Three more people are being questioned in the incident. In protest of the incident, the students of Kantadi School demonstrated today on National Highway No. 32.
The students of that school said that the incident happened yesterday. A dispute arises between two students over a football game. Allegedly, after the trouble, a student informed some of his friends. After that, some people came to the school premises. Allegedly, a juvenile raised a pistol and threatened to shoot. He allegedly fired two rounds. The police of Arsha police station started investigating this incident. Two juveniles were arrested from Pithati village. A firearm was recovered from one person. It is reported that a few more people are being questioned in this incident.
The students and teachers of Kantadi High School are in fear since the incident. Santosh Kumar Mahato, acting headmaster of the school, said that he saw a video that someone came from outside and showed a pistol. But the incident did not happen inside the school. But they are worried about it. He said that a special meeting of the staff council will be decided on what to do next.
However, Purulia district president Sujoy Banerjee is looking at the matter lightly. He said that he will know more about it by going to Kantadi High School. At the same time, he said, "teenagers" tend to do this. It remains to be seen whether the pistol is real or a toy. At the same time, he requested the teachers to teach the students to be more restrained.
The family of the accused teenager has claimed that the pistol is not genuine. The family of the accused alleged that a girl in their family was being molested by school boys. He protested. Based on this complaint, the police arrested three students of the school.
Purulia Superintendent of Police S Selvamurugan said two people have been arrested. Both are minors. The incident is being investigated.
.